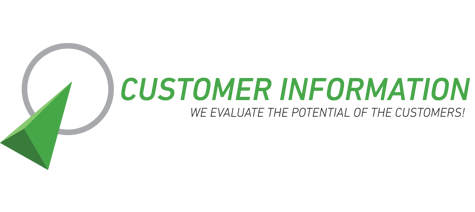 Very often companies do not know how to value its actual customer potential. Through a variety of analytical activities based on an existing or a new customer base, we will help you to build a strategy that will help you to grow the number of customers, sales and profit.
We value your customer potential
Since 2007, Klienditugi Ltd. has been collecting information about companies and their activities. We have data of every company and responsible persons from Estonia, Latvia and Lithuania in our constantly evolving Kliendibaas.ee. In addition to basic data, we also know for example what a company is doing, how many employees it has, how many cars and turnover and who are responsible for different roles. With the help of our automated updating process we are able to keep our customers marketing databases up-to-date. Through our Customer Information service, you will have an accurate customer base for your current and future potential customers. This way you are able to concentrate/focus on marketing and sales using the best-in-market corporate database – Kliendibaas.ee
Customer Information stages
1

Comparing your existing customer base with our database and its first update, which will be carried out by our specialist.

2

Determining the amount of data that needs processing at the level of companies and responsible persons.

3

Upgrading your customer database with necessary information.

4

Based on thorough analysis, creating profiles for potential new customer groups.
5

Creating a customer database that will include both your existing and potential future customers.

6

Adding other required information to your customer database.

7

Customer segmentation.

8

Implementing the automated update of the customer database into your CRM (to the Customer Management software)
Customer databases
PROBLEM
Businesses are increasingly using purchased databases in their work. These databases are connected to their existing customer database, that are saved in many different places and nobody will check/control further actions and updating the data. The result is a situation where data for sales and marketing activities will be outdated and the data will not be used.
SOLUTION
Companies need high-quality data about other businesses and their decision makers in order to obtain new customers and to keep existing customers and sell them more. By database quality, we mean covert, accurate and detailed data about businesses and their decision makers. Our corporate database (Kliendibaas) is based on the data of the Business Register, which is constantly updated. We also update our data systematically – we are communicating with roughly 200 companies, from whom we obtain important additional information about their business activities as well as about their responsible individuals. As a result, we offer our customers a unique database of Estonian, Latvian and Lithuanian companies that our customers can use in their daily work. While establishing the customer base we are strictly following the data protection laws in force in the Republic of Estonia.
Updating customer database
PROBLEM
Company databases often hold a share of inaccurate information about customers and contacts. Data may be inadequate, false or outdated. Database may include passive or defunct companies. Also, changes in company personnel cause a lot of ineffectual costs and operation in sales and marketing.
SOLUTION
We guarantee to carefully examine and complement your present customer database using on our very precise database of companies and responsible persons. With the matching process we can remove all double entries and defunct or passive companies. All incorrect or defective data will be specified and improved in your customer base. Outdated information about people in charge and contacts will be updated compared to our Customer Base and new data with direct contacts (email address, cell phone number and etc.) will be added to your database. On order we can check contacts of executives and gather necessary information by telephone. Read more about our service: Kliendiotsing
Analytics and segmentation
PROBLEM
Enterprises marketing and sales is often targeted at a too wide or incorrectly defined target groups. This turns finding new customers into an ineffective and expensive process. It is mostly caused because there are too many businesses and contacts on the customer base, and often entries are duplicated or false.
SOLUTION
It is important to specify the customer base of the company as precisely as possible. This means clarifying the important current and potential new customers. Customer analysis in based on thorough background data of companies and through that various customer segments are connected by common features. On the basis of created customer profiles and the revenue of the buying customers we can give a very accurate overview of the market potential. Analysis is used to identify the most important current customers and customer segments, customer relations that need development and potential customer segments that are the most interesting. After the results of the analysis are reviewed together with the company management, we can supplement the customer basis with potential customers and customer segments that are formed as a result of this strategy.
Updating data
PROBLEM
When companies are worried about the quality of their customer base, they usually start checking the data on their own. This approach is often a one-time attempt and the renewed information starts to expire again starting from the next day.
SOLUTION
We make sure that the company has the freshest information with companies and contacts of managers of requested customer segments in the whole Baltic region – Estonia, Latvia or Lithuania. In case of automatic data updating all Business Register and our Customer Base up-to-date data will be transferred in the necessary amount to the company customer database, so that it would always hold the freshest information. Our smart CRM solution allows us to add requested additional information to the company customer base as a one-time procedure or delete defunct customers.
Three factors determining the desired market potential:
Credit data
PROBLEM
Often too much time is spent on background checking new potential clients. It is also very difficult to exclude companies who are in financial difficulties or who are not trustworthy from new potential clients.
SOLUTION
Thanks to cooperation with Inforegister we can automatically update credit data (Credit score, risk class, sales recommendation, tax debt, beginning of tax debt, last submitted annual report) of the clients in your CRM. In addition to credit data it is also possible to update other valuable data about a company. That way you will always have fresh data to use in sales and marketing