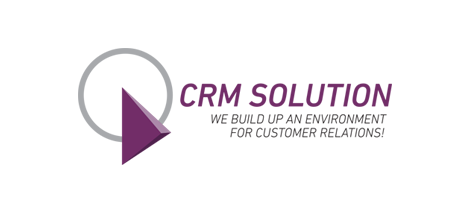 60% of companies in Estonia do not use CRM at all and around 20% of companies are not satisfied with their current CRM solution. Is your company one of them?
What is CRM
CRM (Customer Relationship Management) is a flexible solution with great functionality that administrates existing and/or potential customers, analyses customer related activities, contributes to customer satisfaction and supports business growth. CRM is integrated with other company solutions to draw together all substantial information in one logical view. CRM is easy to use and it requires only internet connection and any kind of device (computer, tablet, mobile phone). CRM is available for a competitive price considering the functionalities it offers.
Our services
Full-Service Solution
An instantly functioning preset CRM-solution that is targeted for companies that need quick simple sales pipe and analytical tools.
Tailored Solution
CRM full service, that is set up according to the previously described processes and needs of the roles. The outcome supports the everyday processes of the company from customer contact to complete analysis.
Analysis
In case it is difficult to choose and you are not certain what aspects need to be improved or changed, then we can assist with process descriptions and selecting the best possible solution.
Advantages of the CRM
CRM Solution is the fastest all-in-one CRM solution on the market which enables automation of sales processes and customer relations. It has client support and callcenter functionality, project management tools, billing with product and warehouse management. CRM Solution can be integrated with other solutions. The ideal solution when speed counts!
*Click on a box to see more information about advantages.
FLEXIBLE
Role and profile based field and view management
Selection based field layout
Available as a separate service
Custom notifications (front page, email, tasks)
Partly included in the license fee.
ALL IN ONE
Create and track campaigns
Available as a separate service
Available as a separate service
Manage marketing materials
Partly included in the license fee.
Available as a separate service
Available as a separate service
Track website traffic (at a personal level)
Available as a separate service
Scheduled campaigns and online surveys
Available as a separate service
Questionnaire and landing page
Available as a separate service
Available as a separate service
Managing invite processes
Available as a separate service
Custom reports and analysis
Business Intelligence reports (powered by QlikView)
Available as a separate service
A VARIETY OF FUNCTIONS
Budget and predictions/forecasts (plans, actions, potentials, turnover)
Managing commission (user-based)
Sales team and sales group management
Customer relationship management
E-mail automation and administration
Creating and tracking campaigns
Available as a separate service
Tracking site visits (at a personal level)
Available as a separate service
Scheduled campaigns and web questionnaires
Questionnaire and landing page
Managing invititation processes
Case and order management
Managing purchase orders (procurements, purchase)
Planning and administrating resources
MS Outlook synchronization (e-mail and calendar)
Google Calendar synchronization
Customized/Modified reports and analysis
Customizable Word, PPT, PDF documents
Business analysis reports (QlikView is used for BI reports)
Separate access to mobile devices
FAST DEPLOYMENT
Field explanations on information fields
Modules that can be activated by the main user
AUTOMATED
Reminders for offers, orders and invoice deadlines
Updating target groups that are used in marketing
Notifications via e-mail within the company and for customers
Updating databases according to the desired criteria
COMPATIBLE
Manually – CSV import and export
Automatic data exchange through SOAP-queries
Available as a separate service
In necessary, we will create the data exchange
Available as a separate service
Available as a separate service
Real-time data copying of customer database
Available as a separate service
IP address-based access rules
EASY TO USE AND SET UP
Group and resource calendar
Customizable fields and views
Customizable colour solution
Managing role-based and profile-based fields and views
Customizable tabs and menus
Selection-based field layout
Rules for creating calculations
Customizable module tools
Customizable front page notifications (via e-mail, as a task)
AFFORDABLE FOR EVERY COMPANY
Pricing the tailoring work according to volume and users
No IT park costs and an always up-to-date service
Cloud-based service (SaaS)
You only need Internet and the device
Unlimited use of data and data storage
Automated backup (once a day with a 30-day history)
SERVERS IN THE EU
User-based, role-based and profile-based management of accesses/permissions
Field-based access and rules for sharing data
IP address-based access rules
Brute Force security/protection